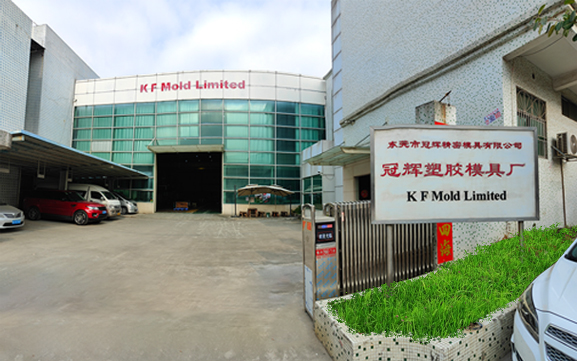 K F Mold Limited (Guan Hui Plastic Mold Factory) was established in 1993. We specialize in manufacturing molds. Our company is located in the center of the Pearl River Delta - Changan Town of Dongguan city, neighboring Hong Kong and Macau with advantaged geographic location, and only 30 minutes driving to Shenzhen International Airport and Fuyong Ferry Terminal. Through years of hard work and having a good reputation, we have developed into a large scale mold manufacturing company.
We have a professional technical mold-making team with most of them having a college education and lots of experience. We use advanced equipments and machinery, such as DMU 85 MonoBLOCK, DMU 125P hi-dyn, & Compact B-3222, Compact-1625 CNC machine centers, AgieCharmile EDM machines, Optical Projectors, Coordinate Measuring Machines, CNC wire cutters, CNC graphite machines, AgieCharmile Slow speed wire cutters and EDM Machines. We use the most advanced software as well as CAD/CAM/CAE systems for mold designing to simulate, and analyze the molding structure and mold making. All our molds and products are precision quality tested, thus assuring high reliability, wear resistance and stability of the internal structure of dies. Our outstanding production capacity ensures an on time delivery, and considerate after service to reassure our customers. With the improvement of quality assurance and management, we have obtained ISO9001:2008 certification for the company.
Our business scopes include plastic injection molds series,die-casting molds series,blowing molds series,rubber molds,insert molds(MUD series),two-shot/overmold molds,etc. Our main molds cover industries such as (Automotive parts of Jaguar,LandRover,BMW,Benz,Honda,GM,Toyota,etc),aviationparts,toys,office furniture,Household products, Medical equipment, Engineering plastics with glass content, Repeated injected hard/soft integrated molds,etc. Our long term partner include:DME,HASCO,Misumi,Meusburger,Syventive,Moldmaster,HRS,Yudo,LKM,ASSAB,Gröditz,Buderus,Merkle,Vega etc. K F Mold have gained high praise and trust from well-known customers, Our products have been exported all over the world and our customer base covers countries as far as USA, UK, Germany, France, Canada, Switzerland, Italy, Australia, Sweden, Japan, Dutch,Mexico, Singapore,etc.
OUR PHILOSOPHY IS TO SATISFY OUR CUSTOMER'S EXPECTATIONS BY PROVIDING A HIGH QUALITY AND RELIABLE SERVICE:
The policy of taking service as the purpose and relying
on quality for survival
Let every customer's products get a high degree of development
So that every customer can use the highest quality and most reliable mold
So that every customer can enjoy the most satisfactory and satisfactory service